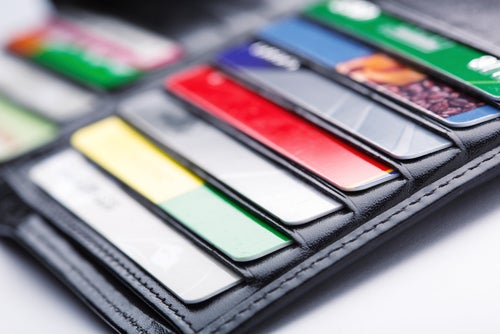 Holiday spending is fun, and at times, addictive. Online sales alone are projected to exceed $70 billion in 2015, and the average American household spent hundreds shopping for family, friends and even themselves. If you maxed out your credit card, you aren't alone. Millions of consumers struggle with the aftermath of holiday spending in the New Year. Right these impulsive wrongs by creating a game-plan to protect your finances and credit score. Follow the steps below to get started.
Put your cards on ice. I mean this literally. If you cannot trust yourself to stop spending, put your credit cards in a cup of water and stash them in the freezer. Overspending is impossible to remedy without overhauling bad habits. While you can't change the past, you can control future debt. Make better choices by pulling the plug on unnecessary spending.
Assess the damage. How much did you spend during the holidays? Did you max out one credit card or many? Make a list of the affected accounts, their limits, current balances and interest rates. For example:

Tally your total debt. In this case, the sum of all credit balances equals $21,400. While this step may be daunting, it's important to understand your financial status.
Trim your budget. It's no surprise that a holiday splurge caused chaos in your budget, and now is the time to slim down. Review your monthly expenses and aim to cut spending by at least 10 percent. For example, suppose you spend $800 per month on food. Save at least $80 in January by dining at home more often, clipping coupons and cooking recipes that provide leftovers. Apply your savings to your credit card debt as soon as possible. With any luck, this strategy will free up hundreds of necessary dollars each month.
Talk to your creditors. Negotiation is a powerful credit repair tool. Don't let accruing interest leave you with years of unpaid debt. Consider contacting your creditors directly to negotiate reduced interest rates or an accelerated payment schedule. Explain the situation and ask to learn more about their policies. Creditors aren't required to change the terms of repayment, but it's worth asking. If you are unsure about this step, talk to a professional who can work with creditors on your behalf.
Create a repayment plan. After lowering your interest rates and repurposing funds, it's time to create a repayment plan. There are several options to choose from:

Repay all cards equally and at once
Repay cards a flat percentage based on individual balances
Pay down one card at a time based on balance and interest rate
Transfer all balances to a single card to secure a single monthly payment
Each of these options is sure to affect your credit in different ways. For example, paying off one card at a time will still leave you with high credit utilization ratios on your remaining accounts, as well as the potential for continued accruing interest. Talk to a financial planner about the best course of action and review their recommendation with a credit repair professional. These combined efforts will help you make a wise decision.
The bottom line: Everyone makes mistakes, and it's important to put yours into perspective. Don't let debt define your future; take a proactive stance to regain control and minimize credit damage.