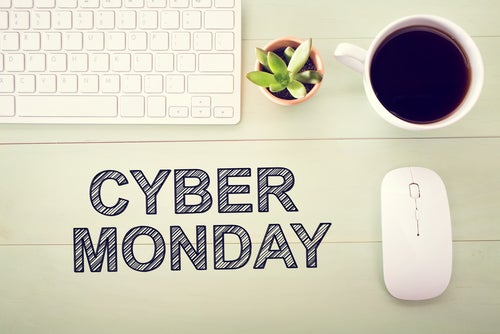 The biggest shopping days of the year are approaching: Black Friday and Cyber Monday. The latter is a relaxing and easy way to shop from the comfort of your home, but is online buying safe? Read on to learn the risks and rewards of Cyber Monday deals. What you discover will help you safeguard your credit.
Risk: Phishing. Cyber thieves are skilled at masking their intent with websites that seem legitimate. This strategy lures in would-be customers and asks them to provide sensitive information like their names, addresses, bank accounts and credit card numbers. If you are unsure of a site's validity, visit Norton's Safe Web to verify it within their search engine. Don't fall victim to clever tactics.


Reward: Significant discounts. It's no secret that Cyber Monday is chock-full of deals. Scoring 70 percent off a computer or 50 percent off a new set of luggage is worth a second look, and your efforts could save you money well into the New Year, allowing you to pay down debt, save for retirement or pursue a new loan, all of which carry credit score benefits.
Risk: Overspending. Although Cyber Monday deals are plentiful, the flipside of a sale is overspending. Online shopping is convenient, but overindulging can lead to depleted savings and high credit card debt, two things that could damage your credit. Avoid this consequence by creating a shopping list and holiday spending budget before browsing the sales.
Reward: Credit card perks. Using your credit card for Cyber Monday purchases is beneficial when reward points and frequent flyer miles are on the table. Accrued rewards can help you save cash on other necessary purchases, protecting your savings account and credit score in the process.
Risk: Identity theft. In addition to phishing, identity theft is a risk for Cyber Monday shoppers. Target and Home Depot customers felt the aftermath of retailer data breaches last year, placing them at risk for long-term identity theft. Protect yourself this year by utilizing secure online payment options like Apple Pay, Android Pay or PayPal. The added safeguard is worth the time and effort.
Reward: Credit boost. Maintaining a positive credit score means utilizing the Five Factors, and Cyber Monday is the perfect time to show your skills related to timely payments and credit utilization. These factors alone account for 65 percent of your credit score.
The bottom line: Shopping with credit is always a risk in today's world. Practice vigilance by paying attention to the sites you visit and the information you provide. The result could save you from credit damage in 2016.