Maybe you put a freeze on your credit if you've been a victim of identity theft or want to protect yourself from it. When you apply for a credit card, loan or mortgage, the lender will need to run a credit check. That means you'll need to unfreeze your credit with one, two or all three of the credit bureaus—depending on which ones the lender pulls credit reports from. 
You must request unfreeze your credit with each bureau individually. Placing, temporarily lifting or permanently removing a security freeze on your credit is free by federal law. There is no limit to the number of times you can unfreeze your credit. A request to remove a credit freeze made either online or via a phone call is usually in effect within an hour or less. 
Options for Unfreezing Your Credit
There are many ways you can lift a freeze. You can temporarily lift it or you can lift it only for certain creditors, for example. How you choose to unfreeze your credit depends on why you froze it in the first place. Here are some options to consider.
Temporarily lift the security freeze
If you still have fraud concerns but need to apply for credit or a loan, you can temporarily unfreeze your credit for a specified amount of time. After the period has passed, your credit is automatically refrozen. 
Permanently remove the freeze
You can choose to have your credit freeze permanently removed. You can place a freeze again in the future, but while your credit is unfrozen, it could open you up to potential fraud and identity theft. 
Give a specific creditor access
When you unfreeze your credit with a bureau, they can issue you a code to give to a specific creditor. This allows that creditor, and only that creditor, to check your credit report. Limited access increases the security around your credit report and identity. 
Subscribe to plans for locking and unlocking your credit report
A security credit freeze is federally regulated and is required to be free, however, each credit bureau offers the option of subscribing to more in-depth services for credit monitoring and fraud vigilance. They offer different levels of subscriptions.
When you subscribe, you can lock and unlock your credit report in a mobile app, using a variety of ID verification techniques. That being said, both locking and freezing your credit ultimately achieve the same result.  
Set up fraud alerts
A fraud alert can be placed on your credit file for one year. It notifies creditors that you are, or may be, a victim of fraud. Creditors are then encouraged to take extra steps to verify your identity (such as calling you directly) before opening a new credit account in your name or making changes to an existing one.
Unlike a credit freeze, you only need to request a fraud alert with one of the credit bureaus—they'll notify the other two. Alerts are free, easy to set up and may be a good option if you want to be cautious but don't want to freeze your credit.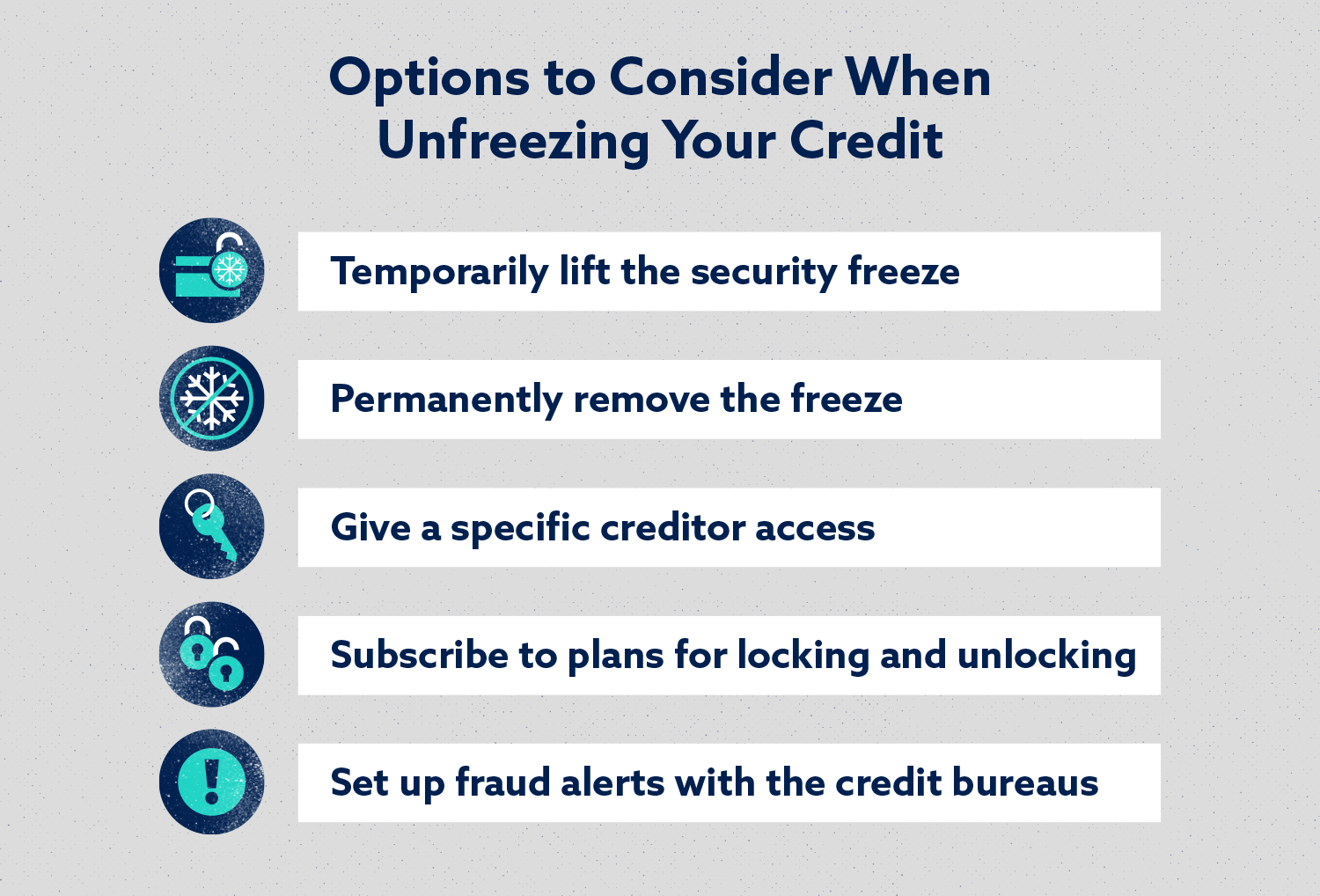 How to Unfreeze Credit with Equifax
Online: Sign up for or log in to your "myEquifax" account. Request the unfreeze by verifying your demographic information, like your social security number. You don't need a PIN when you unfreeze your credit online with Equifax.
By phone: Call 800-349-9960. You'll need to provide basic demographic information, along with the 10-digit PIN you were assigned when you froze your credit. 
By mail: Complete and send in this form to the address provided, marking that you want to lift a freeze. Along with the basic info, you'll need to provide proof of identification, proof of address and the PIN you received when you placed the freeze.
Equifax Information Services LLC
P.O. Box 105788
Atlanta, GA 30348-5788
How to Unfreeze Credit with Experian
Online: Fill out the form to remove a security freeze. Provide details like your name, birth date and email address. You'll need the 5 –10 digit PIN that was assigned when you put a freeze on your credit. 
By phone: Call 888-397-3742 and provide the basic information along with your PIN.
By mail: Submit a written request with your demographic information and proof of your identification and address to: 
Experian Security Freeze
PO Box 9554
Allen, TX 75013
How to Unfreeze Credit with TransUnion
Online: Go to their Credit Freeze page and click on "Unfreeze My Credit." Create an account or log in to an existing account. You'll need to verify your identity by answering three questions specific to you. They also offer the service on their myTransUnion app, available in the App Store or GooglePlay. 
By phone: Call 888-909-8872 and provide the same information.
By mail: Send your written request to:
TransUnion
PO Box 160
Woodlyn, PA 19094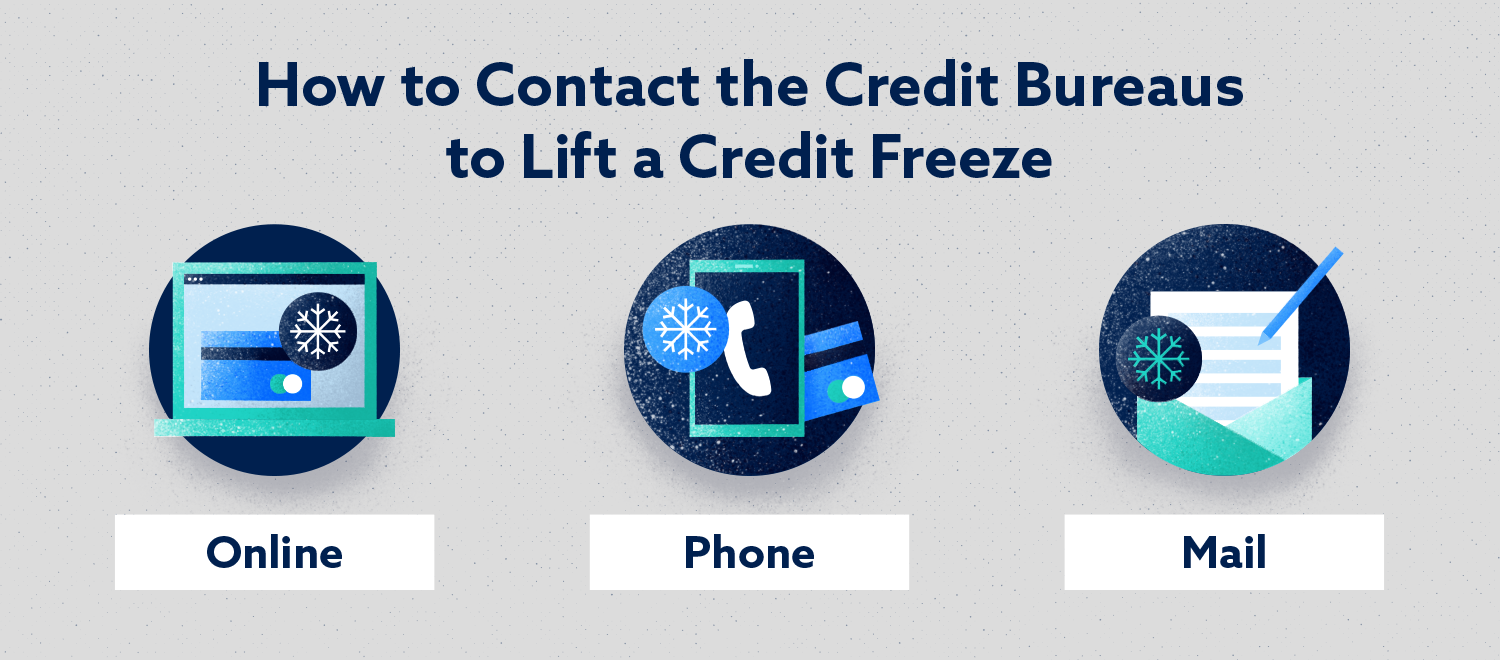 Does Unfreezing Your Credit Help Your Credit Score?
Freezing and unfreezing your credit doesn't directly affect your credit score, but it's likely you froze your credit because of an unfortunate situation—like identity theft or a data breach.
Placing a credit freeze with Equifax, Experian and TransUnion can be a valuable tool in controlling damage and preventing further hardship. A freeze prevents others from opening new accounts on your credit file. That's why freezing your credit can indirectly help protect your credit score.
Even with freezing and unfreezing your credit, you should be vigilant for fraudulent activity. Keep in mind that even if your credit is frozen, if the fraudster has your bank account or credit card numbers they can still financially harm you by making purchases.
If you're concerned that an unknown third party has your bank or credit card details, you should contact your bank or credit card providers immediately. 
How Credit Repair Services Can Help 
The team at Lexington Law can help you clean up your credit report. They'll work with you to ensure that everything is accurate and fairly reported. With credit repair services, they advocate for you and help you achieve the best credit profile possible. Contact the credit repair consultants at Lexington Law today for a free consultation.