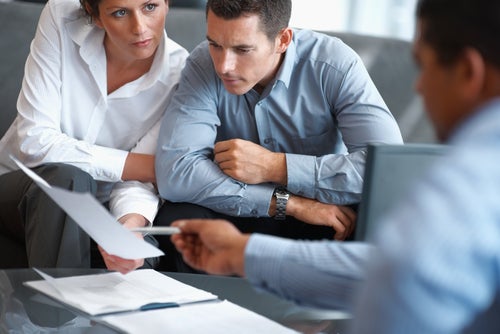 It's a new year once again and resolutions abound. Maybe you've decided it's time to get in shape, or to make this the year you find your dream job. If you racked up a lot of debt over the holidays, improving your credit is probably at the top of your new year's resolutions list for 2018.
If your credit score is in the low or poor range, improving it can feel like a daunting task, but there are some major benefits to boosting your score. Among the most notable, a better score will make you eligible for lower interest rates on credit cards and loans, in turn helping you to get out from underneath all of that holiday debt. A higher credit score can also factor into many other parts of your life that you may not even be aware of — including helping you to land that job.
So if you're ready to make better credit a reality in 2018, here are some simple steps to begin boosting your score.
Check your credit report and score
The first thing you need to do before you can begin making meaningful strides to fix your credit, is to find out exactly what's on your credit report. You are entitled to receive a free copy of your credit report from each of the three credit bureaus annually.
Once you have copies of your credit reports, review them thoroughly and note any items that you believe are inaccurate, or any old items that you believe should have fallen off of your report by now. Anything that is inaccurate and is negatively impacting your credit will need to be addressed, and you may need to initiate a credit dispute. By getting inaccurate negative items removed from your credit report, you'll be on your way to increasing your credit score.
With a clear picture of all of your accounts and debts, you can use this information to take additional actions to fix your credit, including:
Reducing your spending to pay down debt
Credit cards with high balances are a key factor that will have a negative impact on your credit score. That's because your debt and credit utilization make up to 30 percent of your credit score. This means that if you have a credit card limit of $1,000 and you are using more than $300 when your lender reports your outstanding balance to the credit bureaus then your score will likely decrease. Even if you're making your minimum payment on time, you likely won't see your score rise. If you want your score to improve, you'll need to find some other areas where you can cut your spending this year and apply that money to paying down high balances. If you're not sure where to start, list your debts from lowest to highest and start by tackling your lowest-balance accounts first. When you pay off the first account, apply everything you were paying to that card or account to the next-highest balance, and so on.
Make all of your payments on time
Making your payments on time is the most important thing you can do to improve your credit. In fact, payment history accounts for up to 35 percent of your credit score. While some late payments are not reported to your credit account — say, a utility bill that gets paid a week or more late — most other accounts are. Mortgage, auto loans, and credit cards report to the credit bureaus when a payment is 30 days late. You'll also be hit with a late fee on many accounts that aren't paid in a timely manner. That's just more money out of your pocket and that payment ultimately ends up costing you more in the long run.
Determine whether or not you may need to establish credit
If you haven't established any credit accounts or just have a couple, this can also reflect negatively on your score. Credit history is used to determine future creditworthiness because it provides a record of how you've handled credit in the past. It accounts for 15 percent of your overall credit score. If you haven't established credit, you may want to consider applying for a credit card that has a low limit or even a higher interest rate than you'd prefer because without credit cards you have no revolving credit account history and no utilization ratio. These cards are often easier to qualify for and, when used wisely, can help you build credit and boost your score.
Carefully select which credit applications you submit
Each time you apply for an extension of credit a hard inquiry appears on your credit report. Research which creditor will offer you the best interest rate and the most appropriate line of credit. If you have three or more hard inquiries within a 12 month period, your score will likely drop.
Settle any defaulted loans
If you have any loan or credit card defaults on your credit report, these items need to be resolved as soon as possible. Defaults, foreclosures, or bankruptcies have a severe negative impact on your score and the process for removing them can be complicated. It's a good idea to work with a legal credit repair professional to find the best course of action for resolving these issues.
Consider enlisting the help of a reputable credit repair firm
If you're serious about improving your credit in 2018, working with a firm that is knowledgeable and experienced in credit repair is critical to achieving that goal. Lexington Law clients saw 9 million negative items removed from their credit reports in 2016 and learned how to better control their credit. Contact us today at 1-800-608-8004 for a free credit report review and consultation.
You can also carry on the conversation on our social media platforms. Like and follow us on Facebook and leave us a tweet on Twitter.