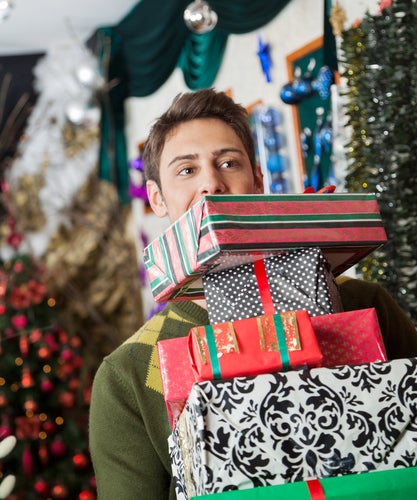 The season of holiday shopping is approaching quickly, and though it's a time for celebration, the average consumer is wary. A study published last year revealed that "half of Americans believe concerns over credit card fraud or security breaches outweigh the rewards they could receive by using a credit card for holiday shopping."
If you are concerned about credit card security this holiday season, follow the tips below to minimize risk, protect your identity and safeguard your credit score.
Make a list (and check it twice). Identity theft and credit card fraud are easily perpetrated during the holiday season when shopping trips are plentiful and it's easy to forget where you spent your money. Don't let a few purchases slip by, allowing a thief to use your card and information for a lengthy amount of time. This year, make a list of all the stores you visit and the things you buy. Keep receipts and compare them to your bank statement after every excursion. If you notice a suspicious charge, notify your bank immediately and ask them to freeze your account.
Shop safe online. Of those surveyed, 16 percent say their credit card was compromised online. Before typing in your credit card information, be sure your online retailer:

Utilizes a secure SSL server (you'll know if the address begins with https://)
Discloses the full amount due
Lists their privacy policy and does not sell your information to third-party sources
In addition, be sure to install anti-virus software that monitors your computer and blocks intruders.
Consider PayPal. If online shopping irks you, consider using PayPal to complete your purchases. Their service allows you to submit credit information through a third party, allowing creditors to verify the purchase while keeping your information secure.
Take advantage of EMV technology. EMV technology is new in the U.S., which is why most of your credit cards have been replaced with chip technology. Rather than swiping your card, new EMV readers require card insertion. While magnetic stripe cards stored personal information, chips create a unique transaction for each purchase, terminating after each action. The result is an account that is more difficult to hack. When it comes to holiday shopping, take advantage of EMV safeguards whenever possible.
Use cash. Credit strength is essential in many situations, which is probably why two-thirds of surveyed consumers used cash for holiday shopping last year. If you plan to buy a home, finance a car, apply for a student loan or make a major purchase in the near future, cash for shopping is your best bet. Good old-fashioned currency eliminates the risk of credit card fraud and identity theft, protecting your credit score and your wallet from higher interest rates and the need for credit repair.
Holiday shopping has its risks, but a little planning will help you enjoy the season. Don't forget to protect yourself.