Independence Day has come and gone, but summer is still full of opportunities to enjoy fun and sun with friends. The decision to host isn't always an easy one, especially if you're worried about money. At best, you may feel the pressure to go overboard and over budget. At worst, you may skip hosting because you don't think you can afford it. Don't let financial worries eclipse the potential for socializing. Follow the tips below: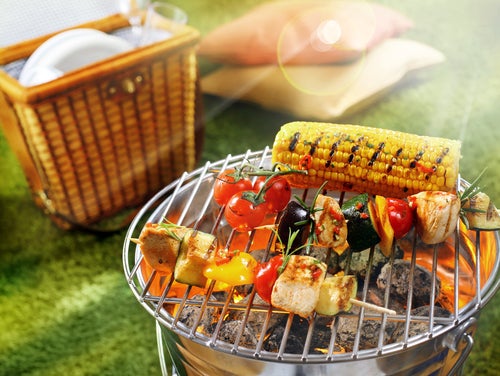 Planning a barbecue? Be sure to:
Set a limit. We've talked about the importance of budgeting in everyday life, and entertaining is no different. Review your budget as you plan to set a price limit for the whole shebang. Don't sacrifice more than you can afford.
Take advantage of "big box" discounts. Big box stores like Costco and Sam's Club are perfect when you're hosting a large group. For example, 24 hot dog buns cost less than $3.75 at Costco, a deal compared to the local grocery store. You'll also find five pounds of baby-back ribs for $37.25, a meal that will feed at least eight people. Take advantage of big box unit prices and buy in bulk.
Organize a pitch-in. Staying on-budget is easy when you organize a potluck. Ask your friends to bring their favorite veggies and other sides. As a bonus, remind everyone that it's a BYOB party, e.g., "We'll have a few drinks, but please bring beer and wine if you want it." No one expects the host to fund the entire party. Give your guests an opportunity to contribute.
Keep it simple. Resist the urge to outdo yourself when it comes to:

Seating:

Don't: Spend $100 on lawn chairs or thousands of dollars on an outdoor dining set.

Do: Spread a few blankets on the grass and call it a picnic. This solution is fun, festive and free.

Cooking:

Don't: Become a vegan master or gluten-free connoisseur (unless you already are).

Do: Keep the menu simple and rely on the pitch-in strategy to meet others' dietary needs. Ask for menu opinions if you're nervous about it; otherwise, a protein, a few veggies, snacks and a simple dessert are more than enough.

Entertaining:

Don't: Buy the latest bocce ball, croquet, or corn hole set unless you plan to use it frequently.

Do: Ask your friends what they have at home and go from there. Improvise with a few Frisbees and Nerf balls to keep things fun. Consider turning the barbecue into an indoor poker night or Xbox tournament as the night winds down.
The bottom line: Use what you have to entertain your friends. Summer fun is about the company, not the perks.