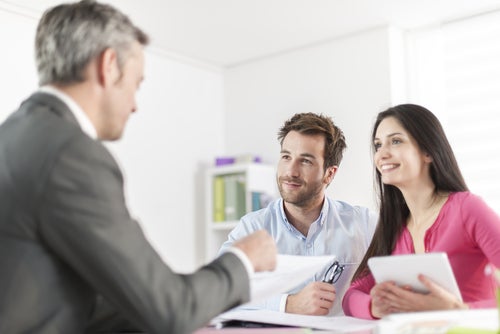 In December 2015, the Federal Reserve raised interest rates for the first time in a decade. Marking a tentative end to economic aid since the financial crisis of 2008, rates are expected to rise between 0.25 and 0.5 percent. Increases stalled in January after the Fed cited concern over unstable financial markets and global growth, but are still expected to continue their gradual uptick as early as March.
While the news reflects positive U.S. market growth, individuals may feel discouraged in the face of rising rates, particularly where mortgages are concerned. If you plan to buy a home in 2016, you are probably wondering how a federal interest rate increase will affect your bottom line. A few considerations include:
Account type. The federal interest rate affects different accounts in different ways. According to The New York Times, "Short-term rates will rise by about one percentage point a year for the next three years, Fed officials predicted. Interest rates on mortgages and other kinds of loans, and on savings accounts and other kinds of investments, are likely to remain low for years to come." The Fed's decision to raise rates is a cautious one. While you may see a shift in credit card APR, you won't see a dramatic increase in mortgage rates right away.
Inflation effects. Although mortgage interest won't rise at the same rate as credit card APR, the effects of the latter could lead to inflation, a factor which could increase mortgage rates significantly over the next few years.

Loan qualification. Rising home prices play a direct role in your ability to qualify for a mortgage loan — and its value. Suppose you apply for a $250,000 mortgage at a rate of 3.5 percent. Excluding taxes and insurance, your mortgage payment will cost about $1,125. Now suppose the same home loan has a 5 percent rate attached. Your monthly payment jumps to about $1,340. While a $215 increase may not seem significant, the result will affect your debt-to-income ratio, disqualifying you from buying a home within the same price range.
Competition. Although a rate increase may diminish your ability to buy, a flooded real estate market is good news for competitive pricing. Falling prices discouraged homeowners from selling during the housing crisis, but economic improvement has resulted in renewed confidence. While house prices have risen in the past year, an influx of supply means competing with other sellers within the community. As a potential buyer, this allows you the opportunity to negotiate everything from sale price to closing costs.
Federal Reserve decisions affect every consumer, and yet, the average American has no control over its implications. Use the options you have to take control of your financial future. Begin by:
Saving. Saving for a home down-payment is essential, regardless of interest rate. Contributing up-front funds of 10, 15 or even 20 percent reduces your monthly payment, eliminates PMI (in the latter case) and provides you with valuable equity. Reduce your investment risk by creating a savings plan before applying for a mortgage loan.
Opting for a fixed-rate mortgage. Fixed rate mortgages enjoy the value of predictability and immunity to a fluctuating market. Lock in your rate by pursuing a 30-year fixed mortgage rather than other home-buying alternatives. With positive credit on your side, you'll have the option of refinancing if rates fall again, and the security of knowing exactly how much you'll spend on housing each year.
Pursuing credit repair. Regardless of the market, qualifying for the best interest rates means maintaining a solid credit score. Review the Five Factors of scoring and keep pursuing your credit repair goals.
Focusing on long-term financial goals. The Fed plans to tread lightly as they raise interest rates. Their goal is to instill fiscal strength while minimizing the risk of another economic crisis in the future. To that end, they won't raise rates until marked economic improvements are met. Take a page from their playbook and approach your own long-term financial goals with an eye on the big picture. The result will help you make a wise home-buying decision.
Related Articles:
Federal Interest Rate Change: What It Means for Consumers
Interest Rate Increase: How Does It Affect Credit Cards (And Me)?