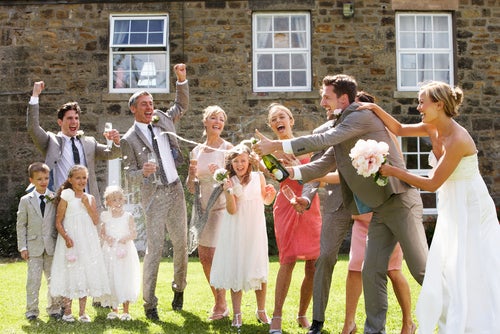 Summer is coming to a close, but weddings season is still in full swing. Whether you've been invited to witness nuptials or simply take a vacation, don't allow frugality to stray too far from view. It's difficult to balance personal and financial obligations, but it's up to you to maintain stability. Read on to learn how to draw the line between safe and precarious spending.
Weddings can be costly for guests, especially when travel is involved. Consider the following example to learn how one man managed a season of invitations with budgeting in mind.
Steve is a 27 year-old software engineer living in Seattle, Washington who has been invited to three weddings in August and September. Although he earns a decent income, past mistakes have taken a toll on his credit score. Steve currently owes $9,550 in credit card debt.
Steve's credit score is 702. He has $5,200 in emergency savings and $12,000 in company stock. He hopes to reduce his credit card debt by 25 percent before 2015 and begin saving 20 percent of his monthly paycheck. So, how much can he afford to spend on weddings and travel?
In order to maintain his emergency savings, Steve decides to spend no more than $1,000 on wedding expenses. This will allow him to replace the funds quickly and return his focus to credit repair. With data in-hand, Steve makes a list of wedding invitations and expenses:
Wedding #1
Who: Steve's best friend since childhood. He has asked Steve to serve as the best man.
Where: Steve's hometown of Cleveland, Ohio.
Cost: $404 for a roundtrip flight from Seattle. Steve will stay with his family to avoid hotel costs.
The verdict: Personal ties win in this case. Steve is willing to forgo spending concerns to attend his best friend's wedding. Thankfully, he'll save by staying with family and booking his flight early.
Wedding #2
Who: Steve's coworkers, Justin and Meg, are getting married. Steve is invited along with many work acquaintances.
Where: On Whidbey Island, about 42 miles from Seattle.
Cost: Between $250 and $300, including hotel and driving expenses.
The verdict: Steve is ambivalent about this wedding. He isn't close with the bride and groom and would rather reduce his credit card debt than pay for a short trip. He decides to send them a gift and save his cash.
Wedding #3:
Who: Steve's friend, Greg, from college. Steve is invited along with many college buddies.
Where: US Virgin Islands, St. Thomas.
Cost: About $1,900 for five nights at the Ritz-Carlton, where the wedding is being held. Hotel food and additional expenses will cost $500, totaling $2,400.
The verdict: Steve only has $596 in his remaining budget, not enough to afford this wedding. That said, he's excited about the possibility of a beach vacation and spending time with old friends. He decides to cut costs by:
Applying frequent flyer miles to his airfare
Booking a cheaper hotel and sharing a room with a college friend who is also on a budget. They consult the price schedule to find the best rates. They find a deal at Best Western, offering a room for $100 per night.
Cooking most meals in the hotel room's kitchenette. Steve shops at the local grocery store for snacks as well.
All told, Steve will spend approximately $900 on his trip, $304 over budget. He decides to spend the extra money, allowing the trip to serve as his annual vacation as well. "It's difficult to visit the Caribbean for less than $1,000," he says. "I'm willing to pay an extra $300 for a wedding/vacation combo."
The bottom line: While Steve did go over budget, his commitment to frugal spending is an important message. Take a lesson from his forethought and choose wisely when RSVP'ing to your end-of-summer events. The result will protect your savings and credit score.