College students are at a crucial point in their financial lives. It's the time where most take out loans and apply for their first credit cards. Very often, they graduate with a lot of debt.

The cost of college has increased 135 percent in the past 10 years for public four-year universities according to the College Board. On top of that, college students face a diverse set of personal obstacles that affect their finances since they vary greatly in age and life experience. While some students are fresh out of high school, others are returning to school after having a child or serving in the military.

The average student spends a lot of money trying to get their degree. Our guide is refreshed for 2020 to reflect the ways things like spending habits and spending power fluctuates over the years. Before diving into college student spending habits, we'll first take a look at this group's overall spending power.
College Student Spending Power
College students had $574 billion in spending power in 2018. The 21.4 million college students in the country earn money in a variety of ways. Most college students make some sort of financial contribution to their education and many pick up jobs to cover these costs. Take a look at the stats below to see how college students earn their money.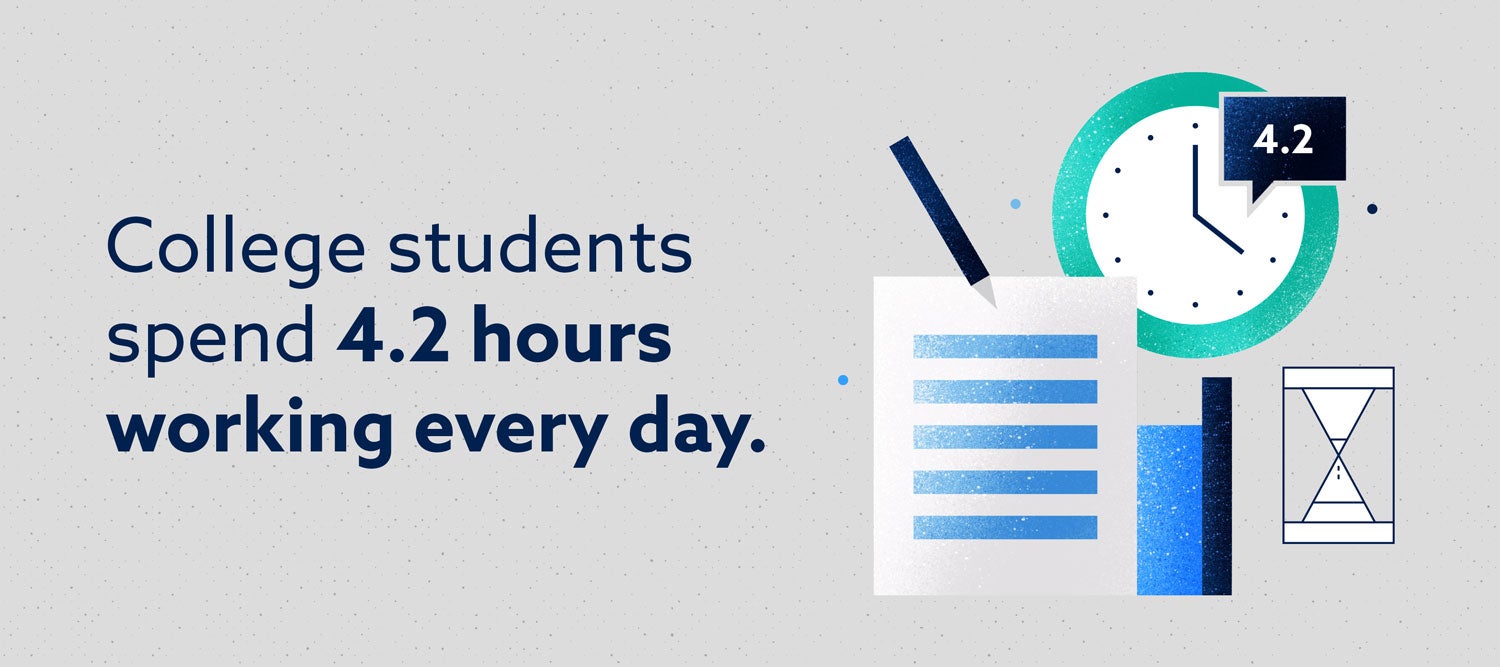 College students spend an average of 4.2 hours working every day. (Source: HSBC Bank)
65 percent of millennials in college needed student loans to pay for their degree in 2018. (Source: OppLoans)
74 percent of college students made monetary contributions to their education. (Source: OppLoans)
How Much Do College Students Spend on Food?
College students spent a combined $65 billion alone on food in 2018. Food costs range from groceries and coffee to eating out. There are several reasons why college students spend so much on food.

The rise of social media and the need to purchase things for status are a couple factors that encourage students to splurge on Instagram-worthy food when they really shouldn't. Other reasons include using food as an excuse to socialize or take breaks from studying. Read on to see how college students spend on food.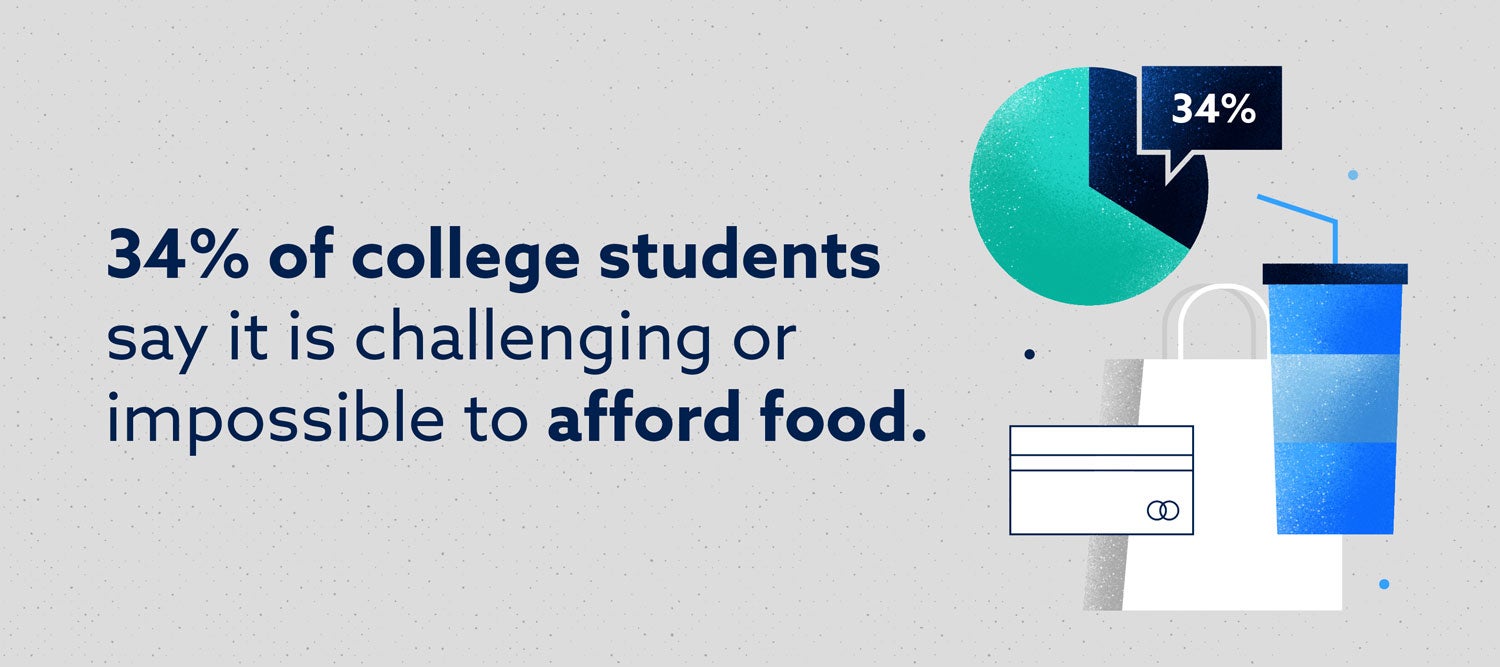 How Much Do College Students Spend on Books and Supplies?
College students spend an average of $3,497 on academic books over the course of their degree. The National Association of College Stores (NACS) found that students still buy about the same amount of course materials, but spend less thanks to more affordable options like renting and digital copies. Read on to see different highlights of college student spending on course materials.
Course Material and Supply Costs
College textbooks vary in price, but can cost a small fortune depending on the degree. Some students go to extreme lengths to afford their textbooks including skipping meals and skipping trips home. Below are the different costs college students face when purchasing course materials and other supplies.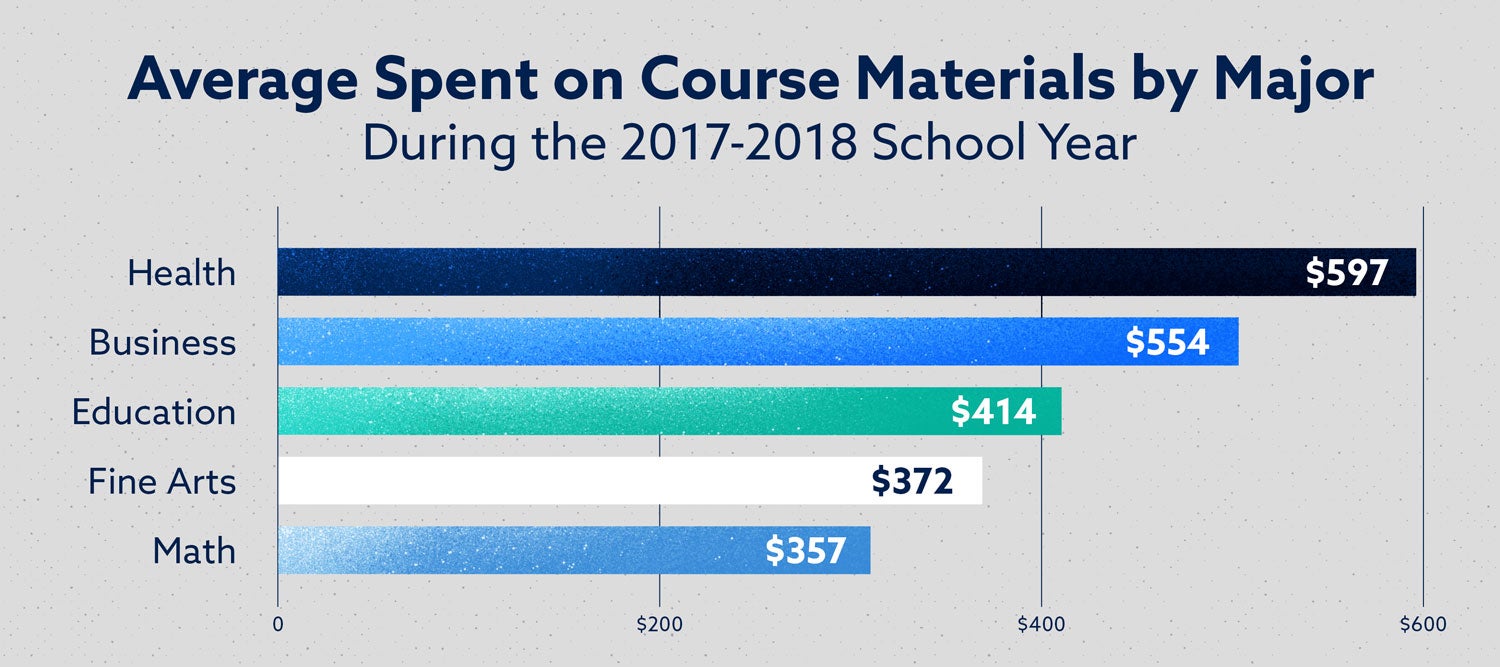 See below for a breakdown of what different majors spent on course materials in the 2017-2018 academic school year according to the NACS.

Health majors: $597
Business majors: $554
Education majors: $414
Fine arts majors: $372
Math majors: $357
Types of Materials and Where They're Buying
College students are frugal when considering where they'll buy course materials and what types of course materials they purchase. Some options, like renting or buying digital books, save a lot but come with their own drawbacks. Read on to see how college students differ when deciding what materials to get and where to buy them.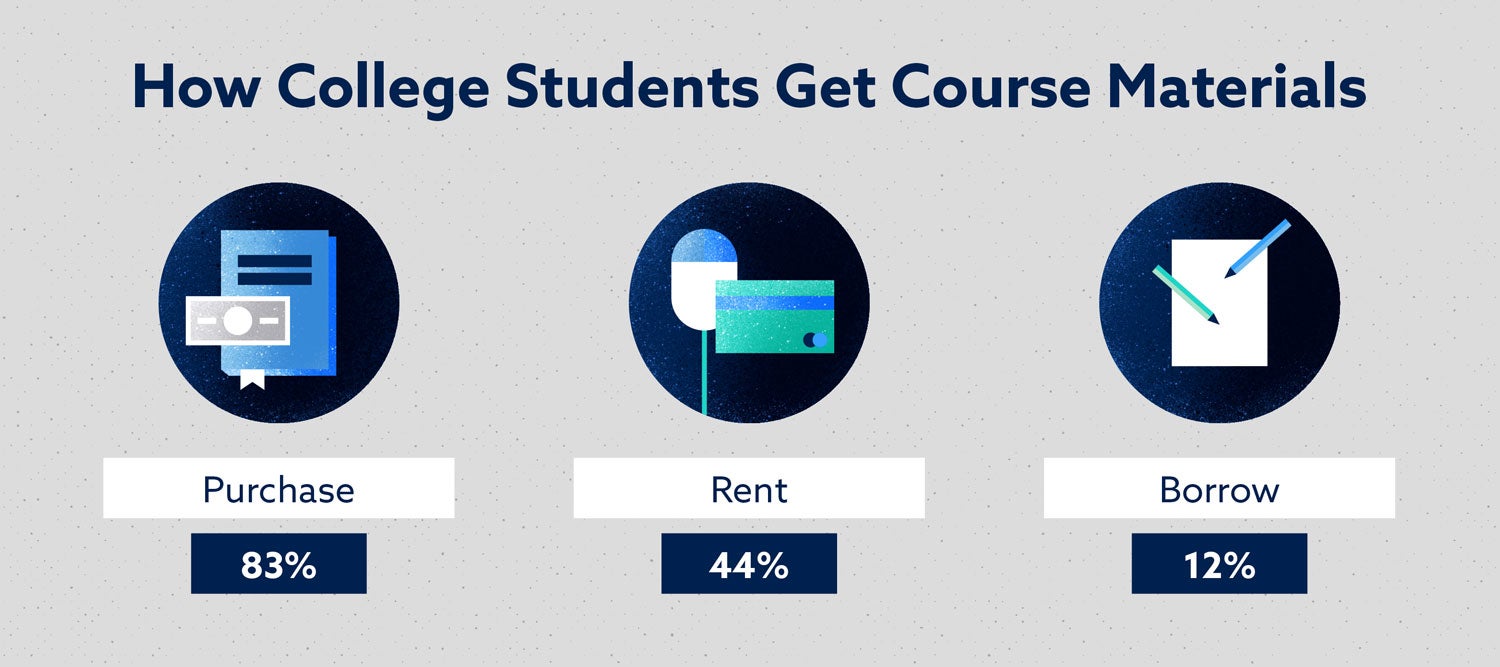 You'll also find that college students greatly differ when purchasing course materials. Below, you'll see how college students acquired their books and supplies during spring 2018 according to the NACS.

83 percent purchased
44 percent rented
12 percent borrowed
How Much Do College Students Spend on Clothing and Personal Care?
College students spend a combined $21 billion on clothing and shoes and $15 billion on personal care products. The rising trend of natural, eco-friendly products is one factor that is possibly driving purchases up in this sector. Take a look at the stats below to learn how much money college students sacrifice for clothing and personal care.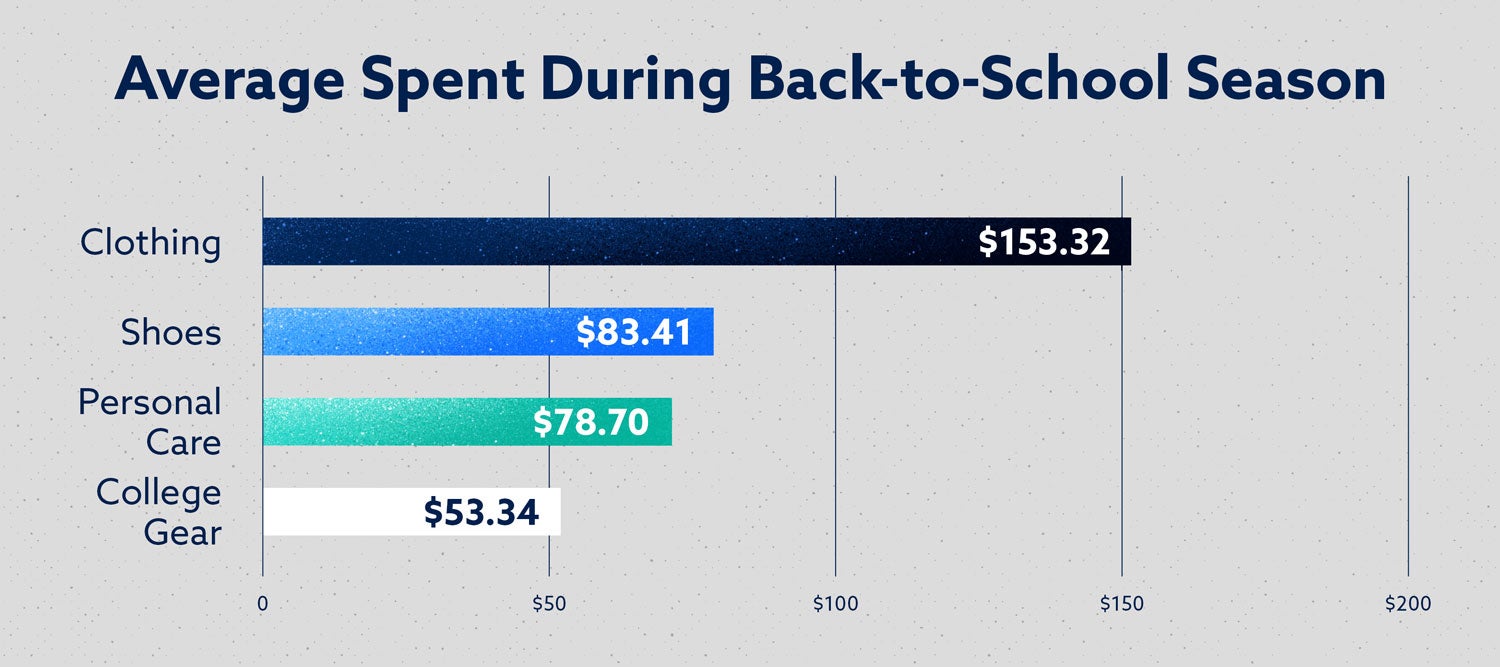 Take a look at what college students per household spent on average during the 2018 back-to-school shopping season according to the NRF.

Clothing and Accessories: $153.32
Shoes: $83.41
Personal Care Items: $78.70
College-branded Gear: $53.34
How Much Do College Students Spend on Rent and Transportation?
College students spend an average of $16,566 on living accommodations and $2,806 on transportation over the course of their time in school. The cost of rent, room and board, and transportation for college students depends greatly on where they attend. Costs can greatly differ between in-state and out-of-state colleges and between private and public colleges.

In fact, college students who attended private, four-year colleges spent about 14 percent more than public college students on room and board alone according to College Board. Learn more about how these costs differ and how much students pay for rent and transportation alone.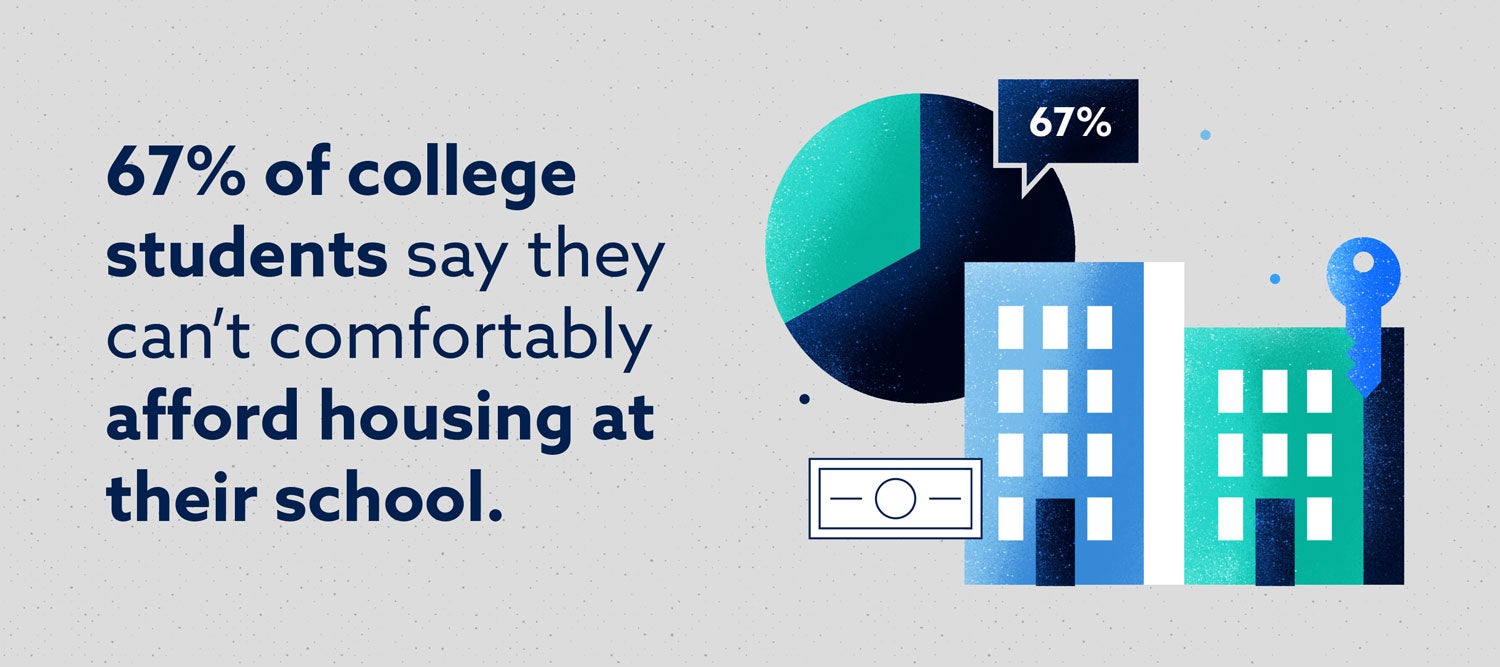 College Student Debt
Student loan debt is at the forefront of the news and many outlets are reporting on the struggles millennials, baby boomers and everyone in between face. Other everyday costs like food and housing also contribute to the list of expenses college students need to cover while taking classes.

We found that most Americans would rather attend an affordable college than a highly ranked school. This shows that college students are highly aware of the costs of attending college and the financial sacrifices they may need to make. Read on to learn about the impact of college student debt.
Student Stress and Debt
Students feel a lot of stress from their finances. Many students feel the pressure of piling debt and many cite financial stress as even more impactful than stress felt from academics. To get a better idea of these stressors, take a look at the stats below.

57 percent of college students work out of financial necessity. (Source: HSBC Bank)
College students spend an average of $4,321 over the course of their college careers paying back credit cards, personal loans and student debt. (Source: HSBC Bank)
College students spend an average of $7,262 on bills and utilities over the course of their time in school. (Source: HSBC Bank)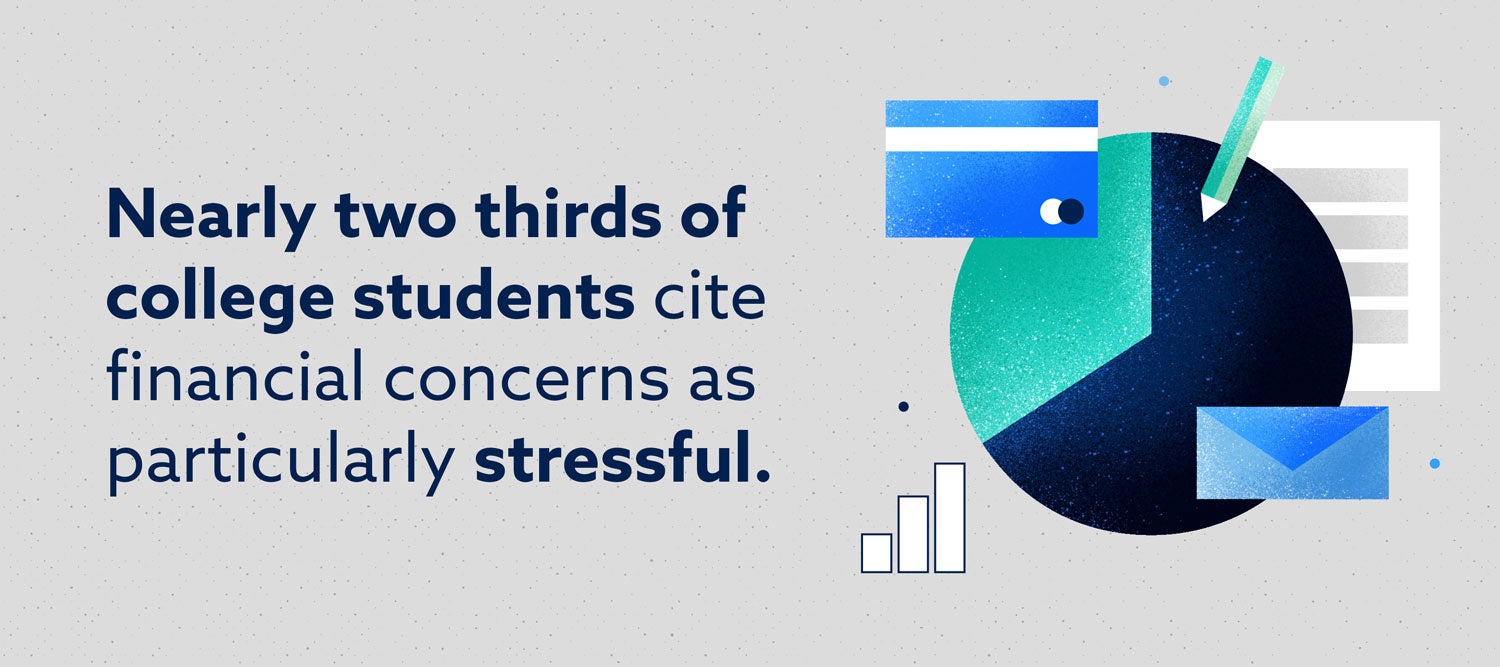 Family Sacrifices
College debt sometimes falls on both students and families. Many parents choose to sacrifice things like recreation and retirement to financially support their children. Take a look below at all of the ways debt also impacts families.

91 percent of college students claimed their spending was responsible, but only 61 percent of parents would agree. (Source: OppLoans)
62 percent of parents stopped or lessened their leisure activities to support their child's education. (Source: HSBC Bank)
Parents say they contribute about $17,314 on average to their child's higher education costs. (Source: HSBC Bank)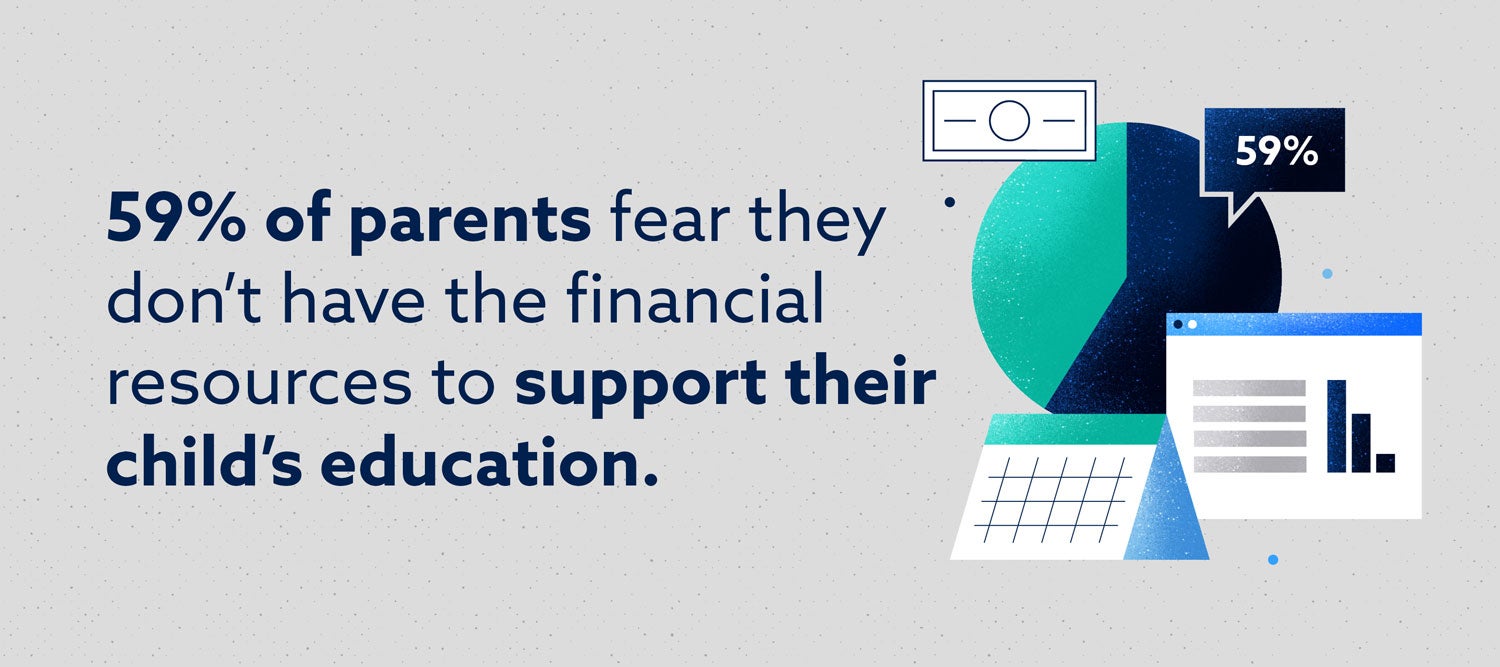 The financial choices college students make can follow them for years after graduation. We're all aware of the student loan crisis, but other financial decisions like late payments and maxed out cards can take their toll if not immediately addressed. It can get particularly overwhelming if you haven't checked your credit report in a while and feel unsure about what's on it.

You should regularly check your credit report to ensure all of your information is accurate and fairly reported. If you need help tackling negative items you find on your credit report, you can get in touch with the team at Lexington Law to learn about how credit repair might be able to help clean up your credit report.