The information provided on this website does not, and is not intended to, act as legal, financial or credit advice. See Lexington Law's editorial disclosure for more information.
For many, Black Friday marks the start of the holiday shopping season. A day known for its significant deals and discounts in retail stores and beyond, it falls on the Friday after Thanksgiving and stirs quite the frenzy among holiday shoppers.
Being the first day after the last major holiday before Christmas, the undeniable high volume of Black Friday spending has made it one of the more profitable retail days of the year. Countless stores reserve this day for their largest sales of the year, most notably on electronics, jewelry and toys.
Falling closely after Black Friday is Cyber Monday, which takes place on the Monday after Thanksgiving. While both are known for their fantastic deals, the main difference between the two is that Cyber Monday is strictly dedicated to online shopping and bargains found online. Black Friday deals are both online and in brick-and-mortar stores.
Although there are deals to be had on these days, it's important to remember that needless purchases can be a significant driver of credit card debt. Huge sales events like Black Friday and Cyber Monday can easily tempt you into spending money you don't have.
Given that 57 percent of 2019 Black Friday spending was done using credit, make sure whatever you purchase this year is something you actually need (and not just an impulse buy driven by perceived savings).
Black Friday Spending Statistics
With many stores opening as early as midnight the day after Thanksgiving, shoppers wait all year in anticipation of Black Friday. Consumers are willing to camp out in front of their favorite stores in order to be first in line for doorbuster deals, or travel out of town just to snag a coveted sale.
174 million Americans shopped between Thanksgiving and Cyber Monday in 2017, which beat the National Retail Federation's pre-holiday prediction that 164 million shoppers would participate. [Source: National Retail Federation]
Those 174 million Americans spent an average of $335.47 per person.  [Source: National Retail Federation]
Black Friday digital revenue grew by 14 percent in 2019 over the previous year. [Source: Salesforce]
Around 63 percent of growth in the holiday retail market is due to Ecommerce growth. [Source: Adobe]
Digital revenue for Black Friday 2019 amounted to $7.2 billion. [Source: Salesforce]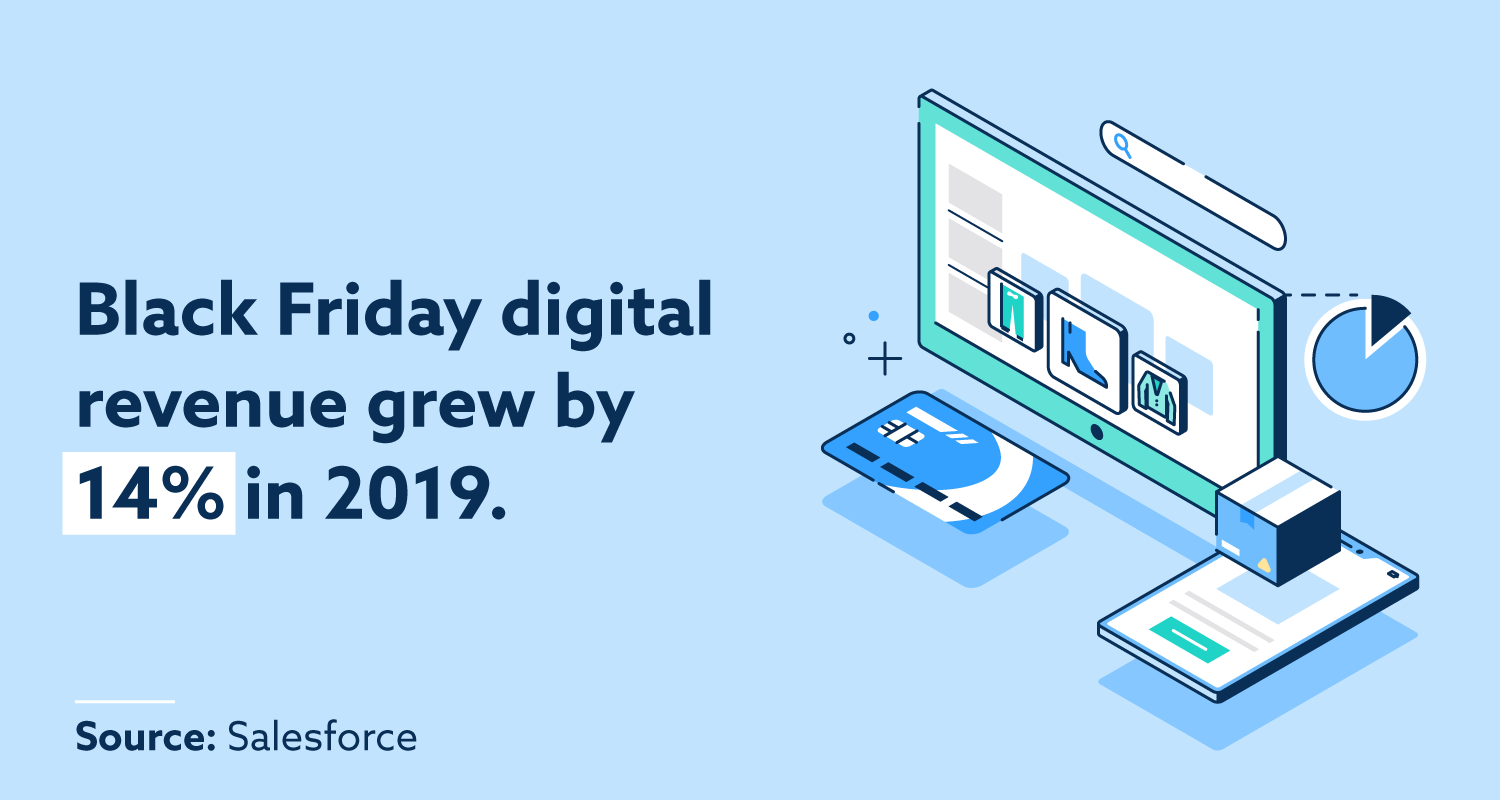 Demographic Trends
The earlier years of Black Friday typically drew in droves of parents buying gifts for their families and children. These days, more Millennials and Gen Z shoppers have taken to participating in Black Friday. Location-wise, the top spending states in 2019—North Dakota, Texas and Wyoming—are typically those with a lower-than-average cost of living.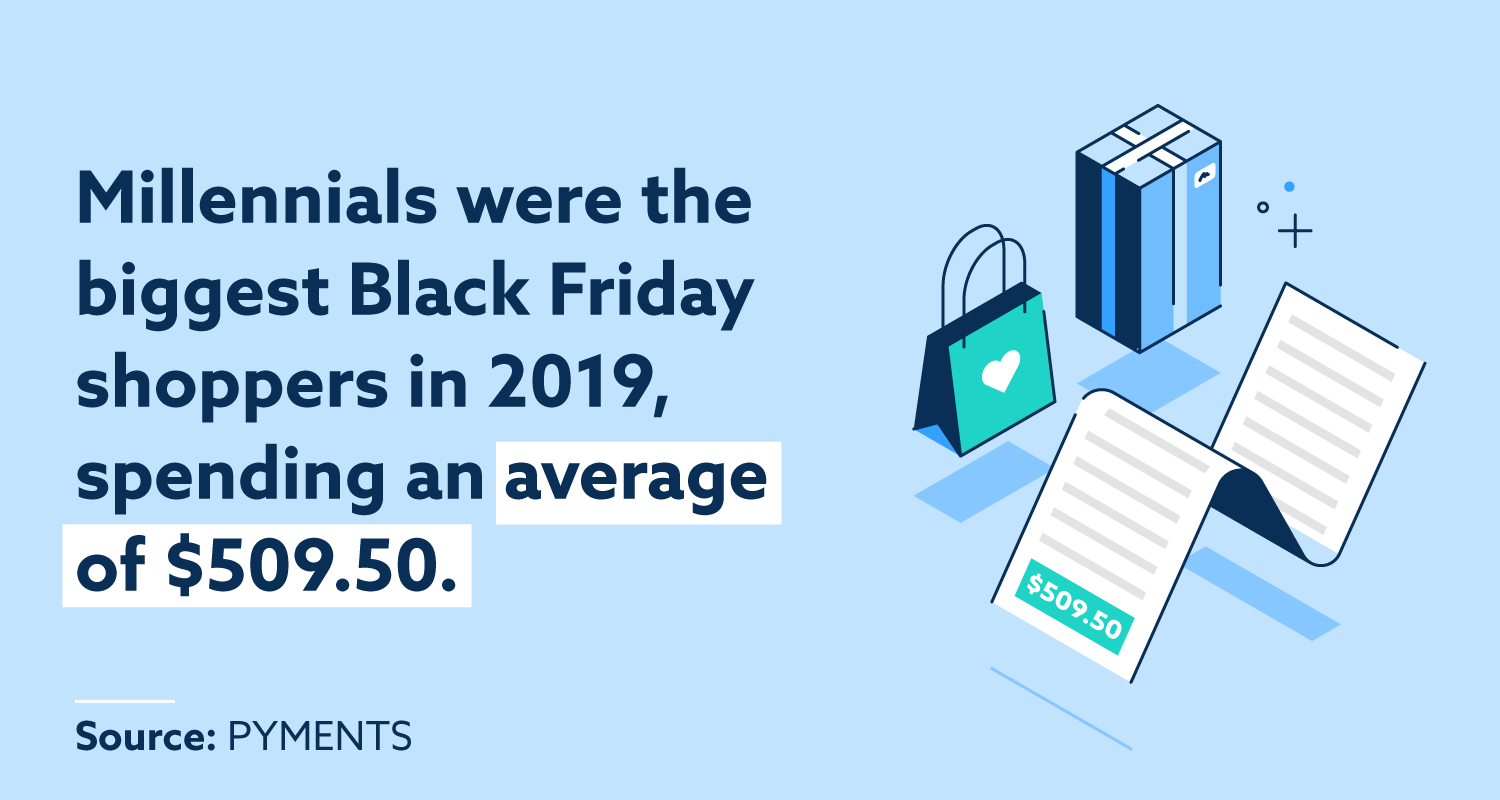 How Are People Shopping on Black Friday?
In years past, Black Friday was famous for drawing enormous crowds into physical retail stores, malls and big-box stores like Best Buy, Walmart and Target. Mile-long lines of tents camped outside the evening of Thanksgiving was typical, and setting out to shop at midnight was a normal occurrence.
In recent years, however, the shopping frenzy has transformed into an online affair, with more consumers choosing to snag their deals from the comfort of their own homes with digital purchases.
On top of this new trend, the current pandemic has shifted the way consumers shop in 2020. Because of this, Lexington Law polled 2,000 Americans to see if they would be staying home this Black Friday. An astonishing 79 percent of respondents said they plan to stay home.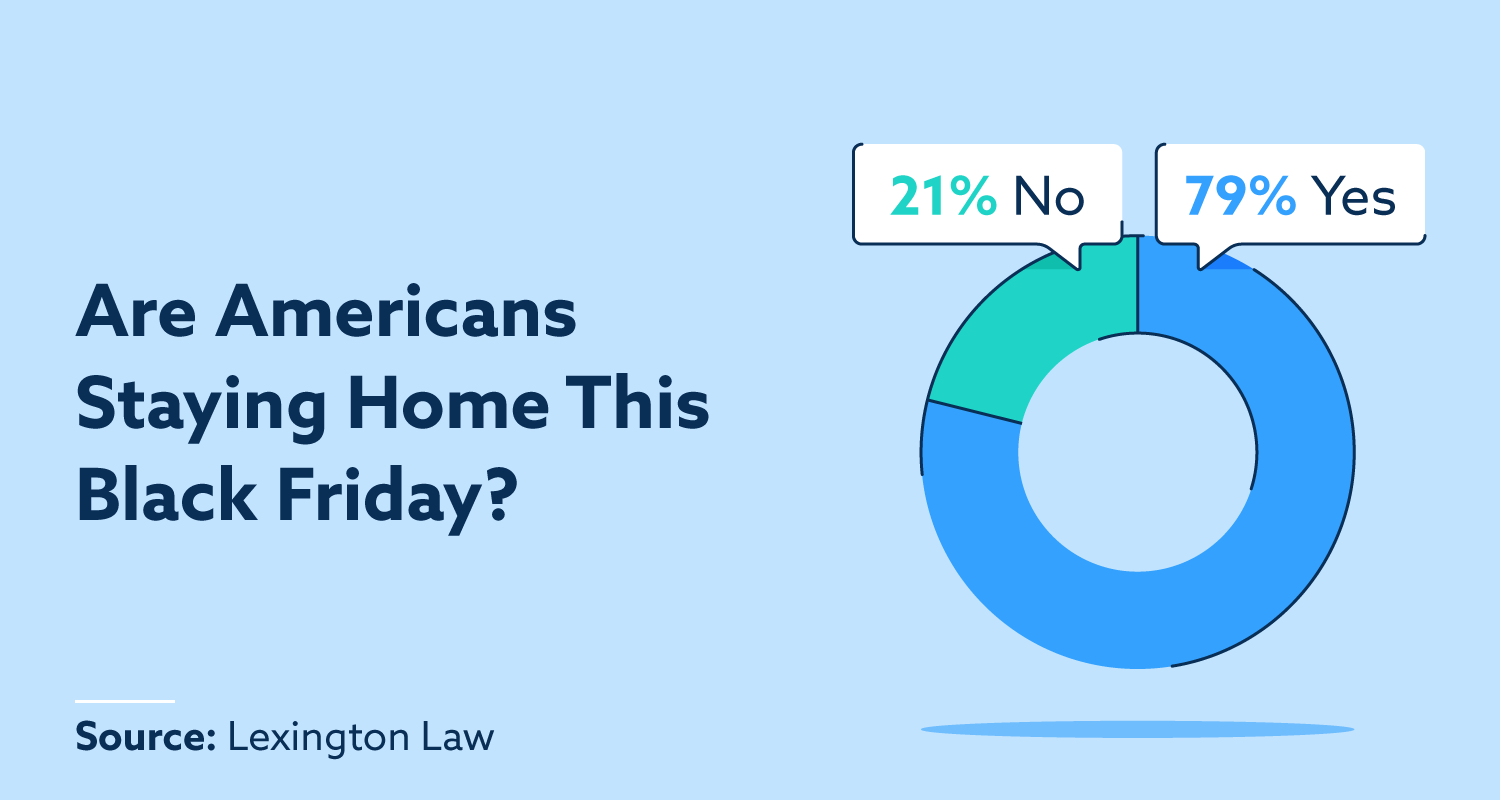 What Are People Shopping for on Black Friday?
Compared to a typical Friday, certain categories' sales skyrocket on Black Friday. Clothing, electronics, grocery items, books, music and sporting goods are common categories of spend year after year. Other items, such as home furnishings, tools and auto parts are less commonly shopped, but they still see an increase in spend during Black Friday.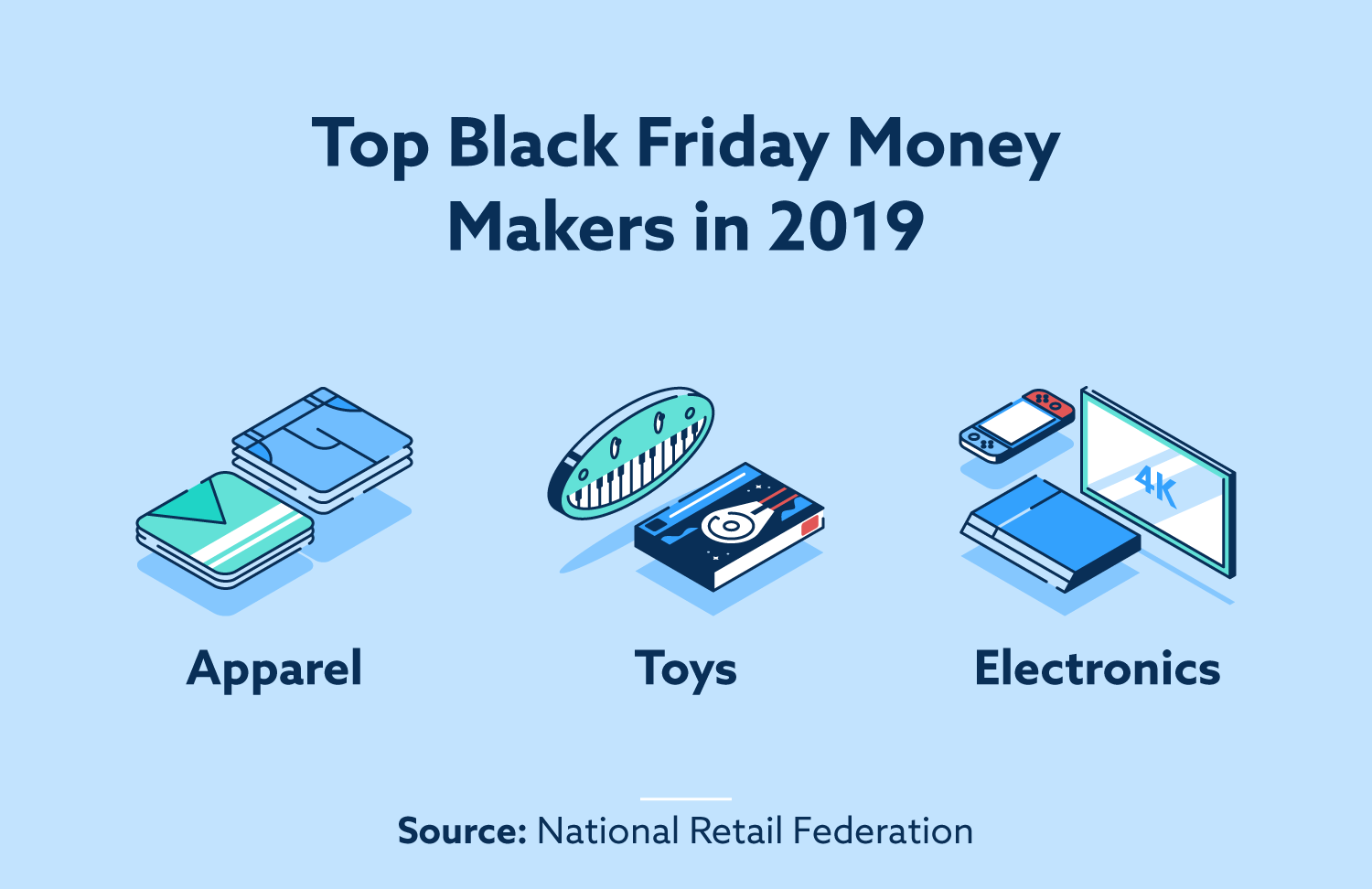 This Year, Shop Smart
Events like Black Friday and Cyber Monday aren't inherently bad, but they can certainly push you to spend more than you can afford if you aren't careful. If you plan on using your credit card for Black Friday shopping this year, make sure you establish how much you can afford to borrow at once. Once you determine that number, don't deviate from it—no matter how sweet those sales might seem!
The amount of credit you borrow compared to your revolving credit limit is what determines your credit utilization ratio, which should be kept as low as possible. Generally, if that ratio exceeds 30 percent, you risk a drop in your credit score.
By establishing your personal credit limit up front (in other words, the amount of credit you can afford to pay back on time), you'll save yourself financial stress down the line. Avoid that burden and allow yourself to enjoy the holidays by staying out of debt and shopping responsibly this season.
If you do find that your credit score isn't where it should be, the consultants at Lexington Law Firm are always available to diagnose your credit and help you get back on track.
---

Reviewed by Cynthia Thaxton, Lexington Law Firm Attorney. Written by Lexington Law.
Cynthia Thaxton has been with Lexington Law Firm since 2014. She attended The College of William and Mary in Williamsburg, Virginia where she graduated summa cum laude with a degree in International Relations and a minor in Arabic. Cynthia then attended law school at George Mason University School of Law, where she served as Senior Articles Editor of the George Mason Law Review and graduated cum laude. Cynthia is licensed to practice law in Utah and North Carolina.
Note: Articles have only been reviewed by the indicated attorney, not written by them. The information provided on this website does not, and is not intended to, act as legal, financial or credit advice; instead, it is for general informational purposes only. Use of, and access to, this website or any of the links or resources contained within the site do not create an attorney-client or fiduciary relationship between the reader, user, or browser and website owner, authors, reviewers, contributors, contributing firms, or their respective agents or employers.