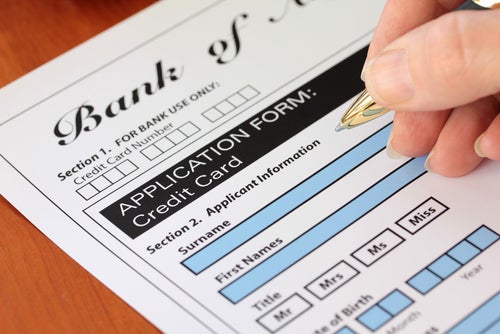 First-time credit users are fortunate in many ways. Although you may not have a stellar history to leverage, you have the unique opportunity to build a perfect score. Follow the steps below as you select your credit card.
Consider its use. Applying for credit should always have a purpose. In addition to establishing a credit history, think about how a new card will affect your life. Do you plan to use it for regular purchases, e.g., groceries and gas or for big-ticket items like furniture and appliances? Creating a plan of action will help you narrow the scope of desirable cards, allowing you to choose a vehicle with a decent limit.
Review your credit. Visit AnnualCreditReport.com to order free copies of your TransUnion, Experian and Equifax credit reports. Review each document for errors and negative marks that may affect your credit scores. Note: You'll need to pay each credit bureau to view your respective scores. For approximations, sign up for CreditKarma.com. They provide free access to TransUnion and Equifax scores. Learning the specifics of your credit will help you determine which card to apply for—and when. Lexington Law Firm gives a free credit score with our consultations.
Research. Credit scores in-hand, it's time to research the best card for you. CreditCards.com provides a list of recommended cards categorized by:

Excellent
Good
Fair
Bad
Limited or No Credit History
Your existing scores will determine which category is right for you. If you are worried about approval, consider speaking with our staff to help improve your credit before applying.
Don't forget the perks. If you are a frequent flyer, new parent or habitual shopper, don't forget to include your needs in the credit card search. Many providers offer points for every dollar spent, allowing you to earn miles, cash back and other rewards. Bonus: Use the money saved to focus on debt reduction, savings and other credit repair efforts.
Avoid annual fees. With perks come costs. Although many high-end credit cards charge annual fees, there are plenty of options that provide rewards without upfront charges. If possible, avoid these unnecessary costs.
The bottom line: The key to first-time credit use is consistency. Begin on a positive note by choosing a card that suits your life and paying your balance in full each month. With the right focus, you'll join the 800 Club in no time.